An art opportunity for children, Art Reaching Today's Youth, Inc. (ARTY) is a tax-exempt South Florida nonprofit committed to making the visual arts a part of the instructional programming at underserved elementary schools. Using innovative Arty Van Gogh mobile studios staffed by experienced teaching artists, ARTY works with schools in Broward County which have no visual arts instruction because of budget cuts and competing program demands. We invite you to explore this website for more about our program and the impact it is having in the lives of young students.
Make ARTY your classroom partner.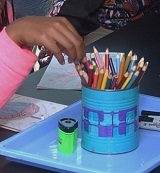 Program basics
ARTY's on-campus lessons help improve children's creative thinking, problem solving, and overall educational experience. Visit our program page to read about other benefits.
Arty Van Gogh
The transition from school bus to mobile studio was truly a team effort, thanks to many volunteers who made the makeover a success. Visit Arty Van Gogh's page to see how we did it.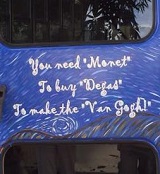 Get involved
ARTY's goal is to serve schools and other education providers, but also involve the community in making the visual arts accessible to more children. Click here to read more.
---
Be sure to like us on Facebook

---
Check out our photos on Instagram

---